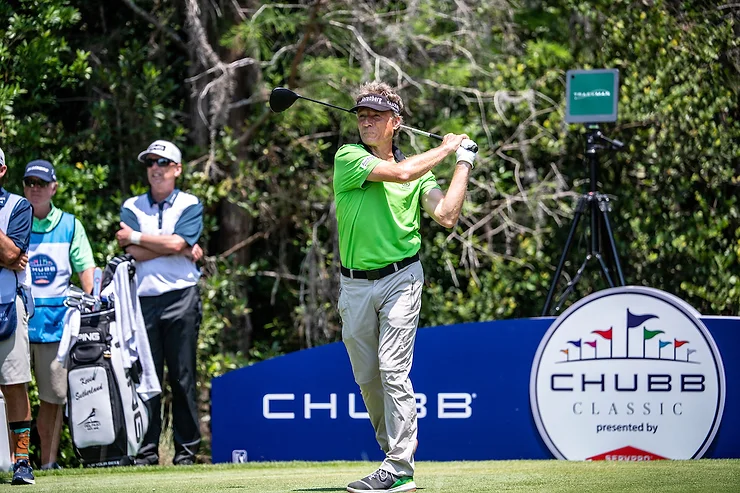 Tournament Preview: Chubb Classic Set to Celebrate 35th Anniversary at Tiburón Golf Club, Feb. 14-20
By Len Ziehm
NAPLES, Fla. – The traditional warmup in Hawaii is over. Now PGA TOUR Champions is ready to get down to business. With the tournament rounds scheduled for Feb. 18-20, the Chubb Classic presented by SERVRPO is the first full-field event of the season for the 50-and-over circuit.
"A great place for it,'' said Peter Jacobsen, who played in the tournament last year and will be on Golf Channel's broadcasting crew for this one.
Oh yes, he's also a member at Tiburón Golf Club, the host club that first welcomed the Chubb Classic in 2021.
PGA TOUR Champions made its traditional season debut at the Mitsubishi Electric Championship at Hualalai, but only winners of tournaments from the previous year can play in that one.
"It's the crown jewel because everyone wants to play there,'' said Jacobsen. "But all the players are excited to get out and get their year started. Last year was a weird one with Covid.''
Indeed it was. Last year's Chubb Classic was moved to April and was one of the many events on all the golf tours that was played without fans in attendance. The fans will be very evident at Tiburón this year, and not just because the tournament won't be dealing as much with pandemic issues.
The Chubb Classic is always a special event. It's become a Florida tradition and this year's playing marks the tournament's 35th anniversary. It's the longest-running PGA TOUR Champions event in the same marketplace. The Champions circuit started in 1980, and the Chubb Classic made its debut just eight years later. It's produced plenty of golf excitement ever since.
So, let's get down to business. Here's what golf fans need to know in the waning days before the first tee shot is struck on Tiburon's Black Course.
WHAT'S NEW: The tourney has a new executive director, but this won't be Sandy Diamond's first rodeo. He worked at the tournament 20 years ago, then spent a long career with the PGA TOUR before hooking on with the First Tee of Metropolitan New York as its chief development officer.
When the Chubb Classic position opened up Diamond was excited to take it and promptly moved to Naples to oversee management of the tournament.
"My background has been more on the development side – sponsorship, marketing – and not on the operational side,'' said Diamond, but he's off to a flying start. He's lined up full fields for morning and afternoon pro-ams on both Wednesday and Thursday of tournament week. There's a $14,000 fee to get a foursome into the field in those, and Diamond had 56 teams lined up two weeks before the tournament.
"And there's no freebies,'' said Diamond.
There may also be another pro-am on Tiburon's sister Gold Course on Tuesday of tournament week in the works, based on demand.
WHAT ABOUT TIBURÓN?: It's the only facility to host events on the PGA and LPGA Tours as well as PGA TOUR Champions. The club has taken on that demanding task in a four-month period. The LPGA's CME Group Tour Championship, which concluded the 2021 season, was held in November and was the biggest money event in women's golf. The QBE Shootout, held in December, brought in an array of PGA TOUR stars. Now it's PGA TOUR Champions' turn.
The Chubb Classic is the only event of the big three held on Tiburón's Black Course. The other two were held on the Gold. Both courses were designed by Greg Norman.
WHO WILL BE HERE?: Jim Furyk, Colin Montgomerie, Ernie Els, Retief Goosen and Bernhard Langer are among the early commitments for the Chubb Classic. David Duval, a former major champion, is also coming. He made his Champions debut in the Mitsubishi event, finishing in a tie for 34th, and the Chubb Classic will be Duval's first in a full-field competition. He was the 2001 Open champion and a former World No. 1.
There'll be 78 players in the field, and Diamond promised ``The field will be extremely strong.''
HISTORICALLY SPEAKING: The Chubb Classic's first champion was Gary Player at The Club at Pelican Bay, the site for the first three years of the tournament. Other Naples area courses took their shot at hosting – Vineyards, Lely, Bay Colony, Pelican Marsh, TwinEagles, Quail Creek, TP Treviso Bay and The Quarry – before Tiburón joined the mix.
When Player won the purse was only $300,000. Now it's $1.6 million. Lee Trevino was the first back-to-back winner (1990-91) and Mike Hill also accomplished the feat in 1993-94.
Langer is the only three-time winner (2011, 2013 and 2016).
BEST STORY LINES: Langer, who lives just a couple hours away, in Boca Raton, is always a good one. Now 64, this guy can still play and will continue to chase Hale Irwin's record 45 Champions wins at least for another year. Langer has won 41 Champions titles and captured the Charles Schwab Cup six times, the last win coming last year.
Miguel Ángel Jiménez got off to a great start in Hawaii when he won the Mitsubishi event for the third time, this time in a playoff with Steven Alker. Alker was the surprise of last season and will be well-watched if he keeps his success run going.
And who knows what to expect from David Duval?
BEST VIEWING HOLES: Jacobsen, who has lived in Naples and has been a Tiburón member for 18 years, believes the key holes will be Nos. 2 and 18.
"The second is tight and long, a difficult par,'' said Jacobsen. "It's extremely difficult and tests your driving right off the bat. The last hole is a reachable par-5. A player will have the opportunity to make eagle and win the tournament there.''
"Overall, the Black Course is a good design,'' said Jacobsen. "It's not overly difficult or very long (6,949 yards from the tips). Greg Norman did a good job. He designed a course that is good for tour players and resort guests as well.''
Back to News