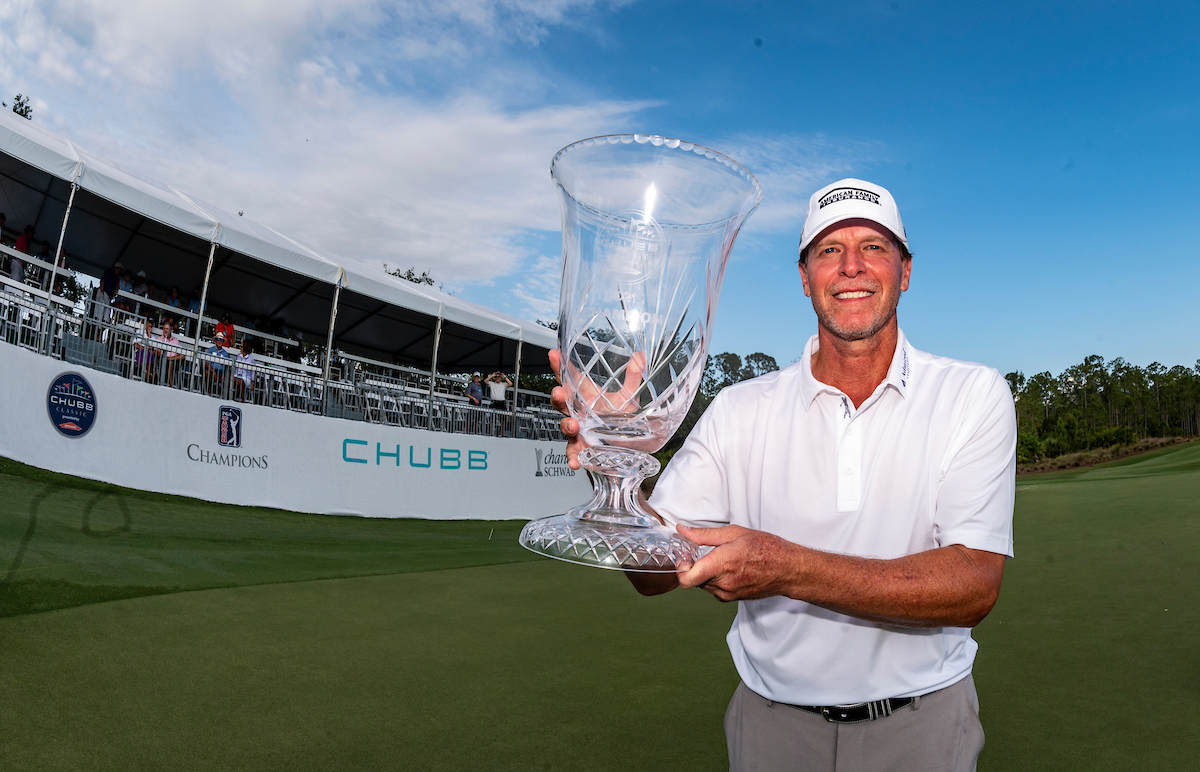 Stricker is back in a big way, and the Chubb Classic becomes a family affair
By Jeff Babineau
NAPLES, Fla. – Steve Stricker was another Wisconsin snowbird wintering in South Florida last February, but he certainly wasn't doing what he wanted to be doing. In fact, he felt a million miles away from the Chubb Classic presented by SERVPRO, a tournament he had captured just a year earlier.
Sticker wasn't playing any golf. He was dealing with a mysterious illness that caused inflammation around his heart, stirring great uncertainty about his health, and his future. He dropped 25 pounds from his already trim body. As his peers competed in an early-season PGA TOUR Champions event just up the road from where he was staying in Sarasota, Stricker was concentrating on just gaining weight, and could do little more than hit a few balls.
"Strength, at the time, was a definite issue," Stricker said on Thursday following his pro-am round at Tiburon Golf Club's Black Course, upon which the Chubb Classic tees off on Thursday morning. "I felt a long ways from this (competition).
"Nikki (Stricker, Steve's wife and caddie), she's the one who kept telling me, 'Let's just take two weeks at a time, and see where you are in two weeks.' That was a really good thought process. I could look back every two weeks and say, seesh, I couldn't do that two weeks ago. Whether it was walking, or hitting a couple balls, these little two-week integral 'parts,' I would look back and think, 'Yeah, we're getting stronger.' "
Stricker turns 56 next week, and he is back in a big way. In fact, as the PGA TOUR Champions returns to Naples, nobody is hotter. He won three of his final four starts to close out 2022, a season which also included a major victory at the Regions Tradition, and he opened 2023 by winning again, putting together a dominant performance at the Mitsubishi Electric Classic in Hualalai, shooting 60 in one of the rounds.
New Zealand's Steven Alker proved to be the circuit's Player of the Year, and now 65-year-old Bernhard Langer won twice in 2022, moving to within one victory of tying Hale Irwin's all-time mark for Champions TOUR wins. But considering that Stricker began his year bedridden, and sapped of all strength, his campaign – four victories and three runner-up showings in 12 starts – was truly remarkable.
Even if Stricker, a hard-working, aw-shucks Midwestern guy to the core, is too humble to ever say that himself. Asked if he considered his season to be remarkable, he smiled, paused, and said, "I'm excited about what I did."
He would add, "I've really enjoyed being in contention and winning that many times. That's what I get excited about every time I come out and play. Because you still get the nerves every time you're in contention and win. I don't expect to do that every time, but if I play well enough, I have the opportunity to get in there and have a chance."
Stricker is a 12-time winner already on the PGA TOUR Champions.
This week in Naples, there is added joy for the Stricker contingent, which is here in full force. Not only is Stricker back at a venue where he has won, but his brother-in-law, Mario Tiziani (Nikki's brother), earned his way into the field through Tuesday qualifying at Forest Country Club in Fort Myers.
Tiziani was one of four players to shoot 67, and then survived the 4-for-3 playoff to join Stricker in this week's field. On his bag this week will be Izzy Stricker, a high school junior and rising player who happens to be Steve and Nikki's daughter, and Mario's niece. She is in store for a fun week.
Tiziani made 12 starts a year ago, getting into events through a mix of qualifiers and sponsor exceptions, his best finish being a T7 at the Pure Insurance Championship in September.
There is a good sense of accomplishment simply getting into a limited Champions Tour field, which this week has only 78 players. Tiziani, who, like his brother-in-law, spends much of his winter in the frozen Midwest (he lives in Minneapolis), does what he can to keep his game sharp and be ready when those rare playing opportunities arise.
"It's tough when you can't build a schedule," Tiziani said. "You try to prepare the best you can, but when you don't know what you're preparing for, it can be difficult. It is what it is. It's hard to get full status (on Champions) and you have to be ready to go when you get the chance."
Stricker, for one, is grateful that Tiziani will be competing alongside him this week. Tiziani knows first-hand what success looks like at this level. When Stricker won in Hawaii, Tiziani was on his bag.
"He looped for me in Hawaii, so he is in the game out here," Stricker said. "He's seeing a lot of the guys, and he's getting a little more comfortable. He's got a tremendous amount of talent and he still hits it out there with some distance. He works at it hard.
"It's good to see his hard work paying off. It's always fun for us (the Stricker family). It's fun to have us all together."
For Stricker, it's rewarding just to back competing once again. He built a home in Orlando so that he, his wife and daughters can play and practice in great weather, and at Isleworth recently he ran into Scott Hoch, a former PGA TOUR winner who was expected to have a monster PGA TOUR Champions career. It never happened.
Hoch was stopped by hand and wrist injuries, and basically told Stricker he is done playing.
Said Stricker, "He's like, you know, you never know when that day is when you can't play anymore. Just enjoy it. And that kind of stuck with me these last couple of weeks.
"I don't know if I'm going to win again, or be able to play. Look what happened to me a year ago. Who knows? So you have to try to enjoy the time out here, and still enjoy the journey and the process of trying to play well."
Back to News