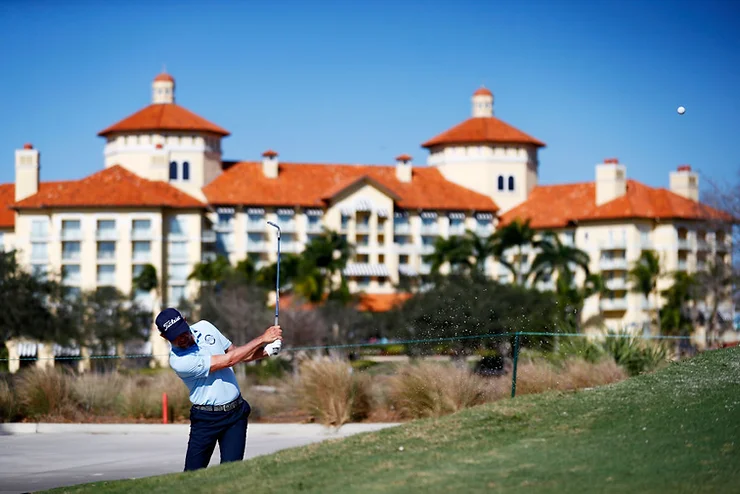 Solid debut for former club professional Rob Labritz
By Jeff Babineau
NAPLES, Fla. - Rob Labritz started thinking about playing on the PGA TOUR Champions as far back as 15 years ago, when he was in his 30s and working as a club pro in New York. He celebrated turning 50 by taking medalist honors at the Champions Q-School up the coast in Tampa, and this week's Chubb Classic presented by SERVPRO marked his first week as a card-carrying member of the TOUR.
On Sunday, Labritz started showing some of his immense talents, making six birdies and posting his best round of the week, a 2-under 70. The Black Course at Tiburon Golf Club was tight off the tee, a challenging way to open his season. But he promised to keep on smiling and did, delighting a large crew of club members and friends that followed him through the week. Labritz graded his opening week (74-71-70) a B-plus.
"I played good," he said. Any time I'm under par for three rounds, I'm excited. I got to play with two legends (Sandy Lyle and Rocco Mediate), which was awesome. You know, I got better as the rounds went on."
Labritz got on a nice run on the front nine, making five birdies and shooting 4-under 32. On the par-5 sixth, he pounded a drive that went 307 yards and hit 6-iron into the putting surface at the 502-yard hole, setting up an easy birdie.
Labritz tied for 26th at 1-under 215. Did the experience he dreamed about for so long live up to his expectations?
"The whole experience did live up to my dream," he said. "I got to play with all sorts of great players out here. I got to meet a bunch of guys. ... So fun being out here, and my game is showing promise. So we'll be trucking away and we're going to have our first victory here soon."
Back to News