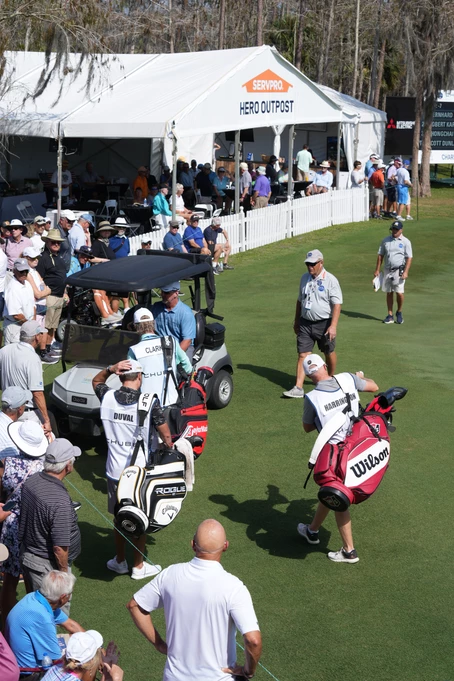 SERVPRO Hero Outpost gives military heroes and first responders a welcomed respite
By Jeff Babineau
The area around the 17th green on the Black Course at Tiburon Golf Club, home to this week's Chubb Classic presented by SERVPRO, was bustling early Saturday afternoon, even with the leaders still three hours away from coming through. Fans were enjoying major champions such as Padraig Harrington and Darren Clarke as they putted nearby.
A key component to the size of the crowd were the fans enjoying the action form inside the SERVPRO Hero Outpost adjacent to the right side of the green. Inside, military members (active, retired, reserved and veteran) and first responders were treated to barbecue chicken and ribs from Michelbob's, a well-known Naples eatery for 50 years, as well as soft drinks and waters from Pepsi.
SERVPRO has operated Hero Outpost facilities at several PGA TOUR and LPGA events, and this is the first time it was part of the Chubb Classic, an event staged in the Naples area for 35 years. John Sooker, Executive Vice-President and COO of SERVPRO, says the Hero Outpost is a natural fit for his company. SERVPRO is happy to give back to so many military members and first responders who do so much for their local communities.
SERVPRO is a Tennessee-based company that specializes in professional cleanup and restoration work that aids in recovery for homes and businesses stricken by fires, flood, storm damage and other natural disasters. Sooker said the company is very "mission-based" as it takes distressed properties and returns them to pre-loss condition.
"Who is in front of us? Sooker asks. "Police, Fire, EMTs, all of that, they are the first ones in to help people. They run in when others are running out, and we have so much respect for what they do. We thought, how can we support them better?"
So the company talked to the PGA TOUR about a partnership and started the Hero Outpost, an initiative that has appeared at the PLAYERS Championship and the Valero Texas Open, as well as at LPGA stops in New Jersey and Los Angeles. Hero Outpost tickets need to be downloaded in advance (ChubbClassic.com) and ID needs to be shown at the Outpost entrance. Military heroes and first responders can bring as many as four members of their immediate family.
"These people are amazing, they really are," Sooker said. "Their everyday lives, especially coming out of a pandemic, that was especially tough. You think about hospital workers and nurses and doctors and EMTs ... this is our way of recognizing and giving back to those folks.
"They need to blow off steam. There's a lot of stress in their world. We want them to come out here and enjoy their day, and not have to reach into their pocket for anything."
Sandy Diamond, Executive Director of the Chubb Classic, was pleased to see how busy the Hero Outpost was on Saturday. In addition to free food and drink, there was a raffle being conducted for a few painted wooden American flags created by Jeff Werner, a retired Army veteran, from Star Spangled D-Signs.
"This is what it's all about, giving back and paying it forward to our local community," Diamond said. "Chubb, our title sponsor, allows us to do that, and specifically, the Hero Outpost is sponsored by SERVPRO, with the help of some local partners. It's nice to be able to give back, and to help those who help us."
Nearby, Bobby Perrette, catering chef for Michelbob's, was assembling barbecue sandwiches into takeaway containers for a line of first responders. Michelbob's became aware of the Chubb Classic through a friend, Bob Papa, who handles many of the PGA Tour Champions telecasts for Golf Channel.
"It's an honor for us to do this," Perrette said. "We thank them more than they thank us."
Back to News