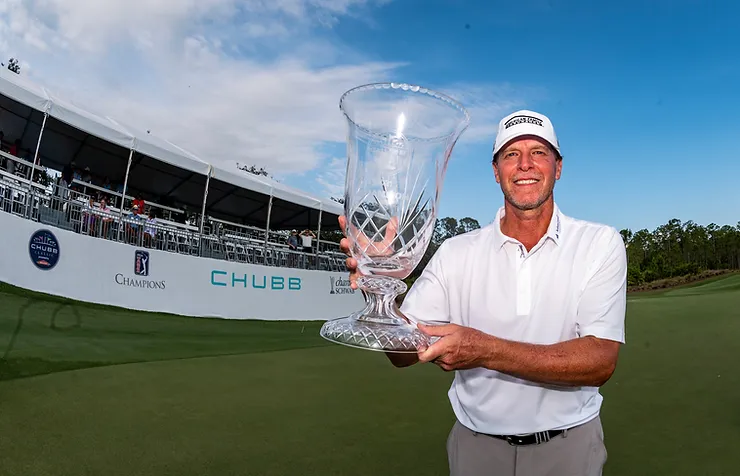 PGA TOUR Champions' Chubb Classic to Return to Tiburon Golf Club; Celebrating its 35th Anniversary
Longtime PGA TOUR Executive Sandy Diamond Appointed New Chubb Classic Executive Director
NAPLES, Fla., Sept. 21, 2021 – Tournament officials announced today a multi-year extension that will return the Chubb Classic presented by SERVPRO to Tiburon Golf Club's Black Course in Naples, Fla. and its traditional February dates starting in 2022, taking place Feb. 14-20. The longest-standing PGA TOUR Champions event to be contested in the same metropolitan area, the Chubb Classic in 2022 will celebrate its 35th anniversary as Naples' flagship PGA TOUR Champions event.
Outlyr (formerly Eiger Marketing Group), owner and operator of the Chubb Classic presented by SERVPRO, also announced today the appointment of longtime PGA TOUR executive Sandy Diamond as vice president and executive director of the Chubb Classic. Diamond, a longtime PGA TOUR sales, marketing and sponsorships executive who most recently was chief development officer for The First Tee of Metropolitan New York, will oversee all tournament management of the Chubb Classic, working in conjunction with PGA TOUR Champions. Diamond and his family have relocated from the New York/New Jersey area to Naples.
"The Chubb Classic is one of the premier events on the PGA TOUR Champions schedule and is a mainstay in the Naples and Southwest Florida," said Andy Bush, partner at Outlyr. "We couldn't be more excited to continue our partnership with Tiburon Golf Club for 2022 and beyond in hosting this great championship.
"Outlyr is all about bringing on best-in-class employees to manage our portfolio of tournaments, and Sandy Diamond fits the bill perfectly," continued Bush. "I've worked alongside Sandy for a number of years, and to have him join the team as we look to celebrate the Chubb Classic's 35-year anniversary is the ideal time and opportunity."
"I've been fortunate to have a long-lasting career in the golf industry that has allowed me to channel my passions in both sports and business," said Diamond. "To have this opportunity to join Outlyr and to manage the Chubb Classic and its upcoming 35th anniversary is a perfect next step in my career. I look forward to working with my friends at the PGA TOUR and getting fully engrained in the Naples community as we ramp up for the 2022 edition of this great championship."
"On behalf of our members and staff we are excited to return as tournament host for the Chubb Classic in 2022," said Kevin DeDonato, General Manager at Tiburón Golf Club. "The support we receive from ownership, Troon, and all of our great partners will provide the resources to make this another successful event. We look forward to working with the Outlyr team along with all of the organizations affiliated with this long-standing event."
Tiburon Golf Club, the only facility to host a PGA TOUR, PGA TOUR Champions and LPGA Tour event in the same calendar year, features two 18-hole Greg Norman-designed golf courses, The Gold and The Black. The Black Course, which opened in 2001, has a very distinctive look with its pine straw-lined fairways, crushed coquina waste areas and undulating greens nestled amidst acres of pine trees and native Florida foliage. The Black Course is designated as a Certified Audubon Cooperative Sanctuary by Audubon International to protect and enhance its natural surroundings.
The 2021 Chubb Classic was contested in April at The Black Course at Tiburon Golf Club, where resident Steve Stricker captured his sixth PGA TOUR Champions victory by one stroke over Robert Karlsson and Alex Cejka. Stricker will captain the U.S. Ryder Cup Team this week at Whistling Straits, taking place Sept. 24-26.
Tickets and volunteer registration will be announced at a later date. For more information on the Chubb Classic, visit www.ChubbClassic.com, and on social media @ChubbClassic on Twitter and @ChubbClassic on Instagram.
Back to News