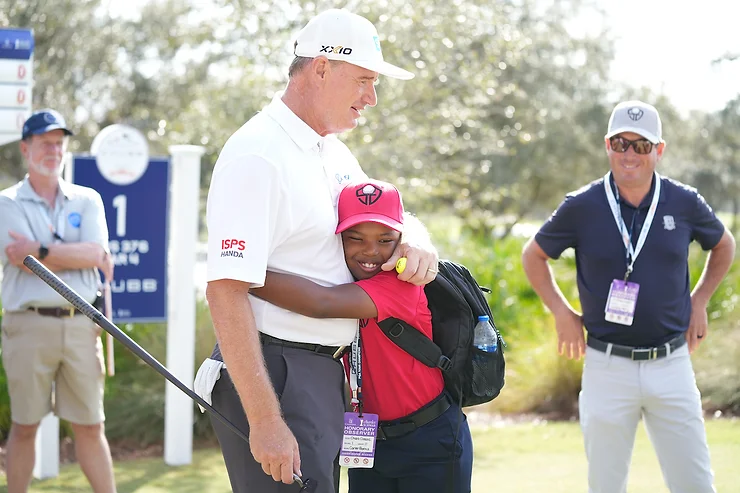 One 10-year-old's unforgettable Big Easy experience
By Jeff Babineau
NAPLES, Fla. – Ten-year-old Carter Bonas of Coral Springs, Fla., experienced two days at the Chubb Classic presented by SERVPRO that he won't soon forget. The junior golfer and young entrepreneur (Carter operates his own clothing line, called Spectrum Golf) lives on the autism spectrum.
At Tiburon Golf Club, Carter was introduced to World Golf Hall of Fame member Ernie Els. Els' son, Ben, is on the spectrum, which prompted Els and his wife, Liezl, to start the Els for Autism Foundation and build the state-of-the-art Els Center of Excellence in Jupiter, Fla., widely recognized as a leading facility in providing programs and services for young men and women on the spectrum.
On Thursday, Els showed Carter some of the stretching exercises he does before golf rounds, and Carter also joined the four-time major champion on the practice tee to watch him hit balls. On Friday, with Els playing in the day's marquee grouping alongside Bernhard Langer and Retief Goosen, Carter joined the Hall of Fame threesome as an honorary observer.
Carter told his mom, Dr. Thelma Tennie, that he wished to donate 5 percent of proceeds from his clothing sales to charity, and wanted to choose a nonprofit that his mother oversees. But his mom told Carter that he needed to find a cause about which he was passionate – so his charity money from 2021 will be steered to the Els for Autism Foundation. He even gifted Els a hat and a shirt that he designed.
Carter, in turn, left with a terrific picture of him engulfed in a hug with the 6-foot-4 Els. It resonates joy.
"For his wall," said his mom.
"It was amazing," Carter said of his experience.
"Ernie was extremely generous with his time, and was looking out for Carter, and inviting him to come and walk with him," said Carter's dad, Eddie Tennie. "It's been a phenomenal experience."
With that, the family was headed back to the East Coast of Florida. Carter has a junior tournament on Saturday at Trident Golf Club in Stuart, and he was tired from so much walking. He said before he plays, he will incorporate some of the stretching exercises that Els showed him. ("I'll definitely do those," Carter said.) Somebody left the Chubb with a new favorite player.
Back to News