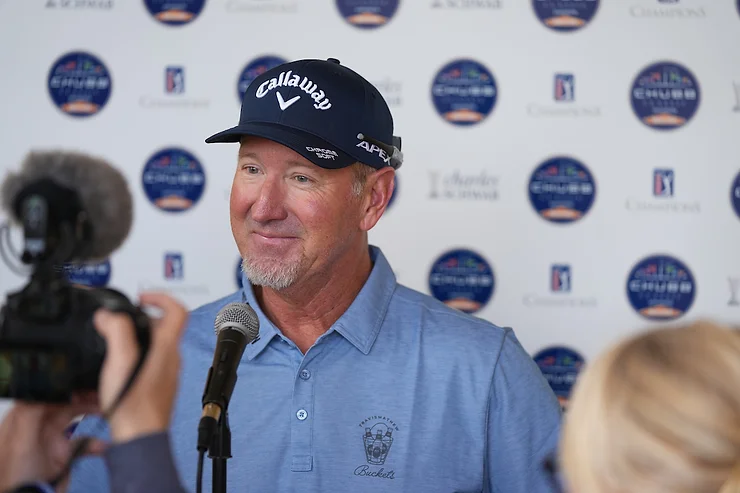 Longtime Friends David Duval and Jim Furyk Set to Renew Competitive Fire at Chubb Classic
By Jeff Babineau
NAPLES – Jim Furyk, making his first trip to play an official event in Naples, is trying to shake off three weeks of competitive rust. David Duval played three weeks ago at the PGA TOUR Champions opener in Hawaii, too, but he faces a different challenge. After turning 50 in October, he is trying to shake himself free of seven years of competitive rust, having traded his Golf Channel microphone for a set of golf clubs.
Friends since their days on the developmental Nike Tour, Furyk and Duval are in the earliest days of a 2022 PGA TOUR Champions season in which they are chasing a 64-year-old phenom, Bernhard Langer, who continues to dominate their tour. Langer is coming off a sixth Charles Schwab Cup victory, winning the title after a two-year wraparound season that included 2020 and 2021. Yes, these are interesting times at this week's Chubb Classic presented by SERVPRO, which begins on Friday at Tiburon Golf Club's Black Course. Duval, Furyk and Langer are just a few of the stars in the field.
The 80-player field at Chubb represents 19 major championship titles and includes seven World Golf Hall of Fame members, a group that includes the 64-year-old Langer. He is no stranger to success at the Chubb, having won the event in 2011, 2013 and 2016. Langer began 2022 with 42 career PGA Tour Champions victories, just three shy of tying Hale Irwin's all-time record of 45.
"He's amazing – I don't care how old he is," Furyk, last season's Schwab Cup runner-up, said of Langer. "He's hungry, he's got a lot of drive, he still works hard at it. Not many people want to do that at 64. They want to sit back and remember the good days. Bernhard is happiest when he's competitive and working his tail off. So it's fun to see.
"He doesn't have the length that some of the guys on our Tour have, but he still finds a way each and every week to compete, and season-long, he beat everybody last year. The records that he and Hale have on the Champions Tour, I don't see anybody touching them, to be honest."
A handful of players looking to step between Langer and a seventh Schwab title would include Furyk, whose three victories in 2021 included the U.S. Senior Open title; Spain's Miguel Angel Jimenez, a past Chubb champion who captured the season-opening Mitsubishi Electric Championship in Hawaii (he owns 11 Champions wins); and Ernie Els, who has retained the silky swing and power game he showed on the PGA Tour, where he captured four major titles.
Duval is hoping to get into that contender mix, too. He is a former World No. 1 – a lofty accomplishment in the Tiger Woods' era – who won the 2001 Open Championship at Royal Lytham. Beset by injuries that slowed him on the PGA Tour, he said he feels healthy and ready to go. It's just a matter of getting back into the swing of things as a tournament competitor, getting re-accustomed to everything from packing to playing.
"It's exciting. It's all new," Duval said from Tiburon on Wednesday. "Trying to find my way around, know where to go, where to register, all the things that become second nature playing full-time on the regular tour. Then you come all here and you're a rookie, and you don't know where anything is."
Duval received an exemption into the Mitsubishi last month in Hawaii and tied for 34th, shooting 74-70-72. He'd like to think playing winning golf again will be like the old axiom, which is just like riding a bike again. But he is smart enough to know that being competitive again is something that will take some time, and will require considerable patience. The Chubb will mark the first of three consecutive weeks of competition – he plans to play next week in Tucson, and the following week in Newport Beach, Calif. – as Duval looks forward to trying to establish some rhythm. What were his thoughts on his Champions debut?
"I mean, if you're going to be honest about it, it was a little nerve-wracking, a little anxious, because it's just not what I've been doing," Duval said. "I've been talking about these guys in golf for seven years (as a broadcaster), not competing with them day in and day out.
"So, I think it's a situation where, just get comfortable, kind of get my feet underneath myself again. That's why I'm really happy about the next three weeks. I don't believe I've played consecutive events, let alone three tournaments in a row, in probably eight or nine years. Looking forward to that."
On Friday, Duval plays with two fellow Open champions, Darren Clarke and Padraig Harrington, off the first tee at 9:39 a.m. Harrington, a winner of three majors, turned 50 late last year and is making only his third PGA Tour Champions start. Langer, Els and Retief Goosen are in the following group.
Brian Gay, a five-time PGA Tour winner, and former PGA champion Y.E. Yang will be making their PGA Tour Champions debuts at the Chubb.
Last year's Chubb Classic champion, Steve Stricker, is not able to compete this week. He still is recovering from the lingering effects of a mysterious illness that led to an irregular heartbeat and hospitalized him shortly after he captained the U.S. to victory in the Ryder Cup last fall in his home state of Wisconsin. He said last month he hopes to be healthy enough to compete at next month's PLAYERS Championship.