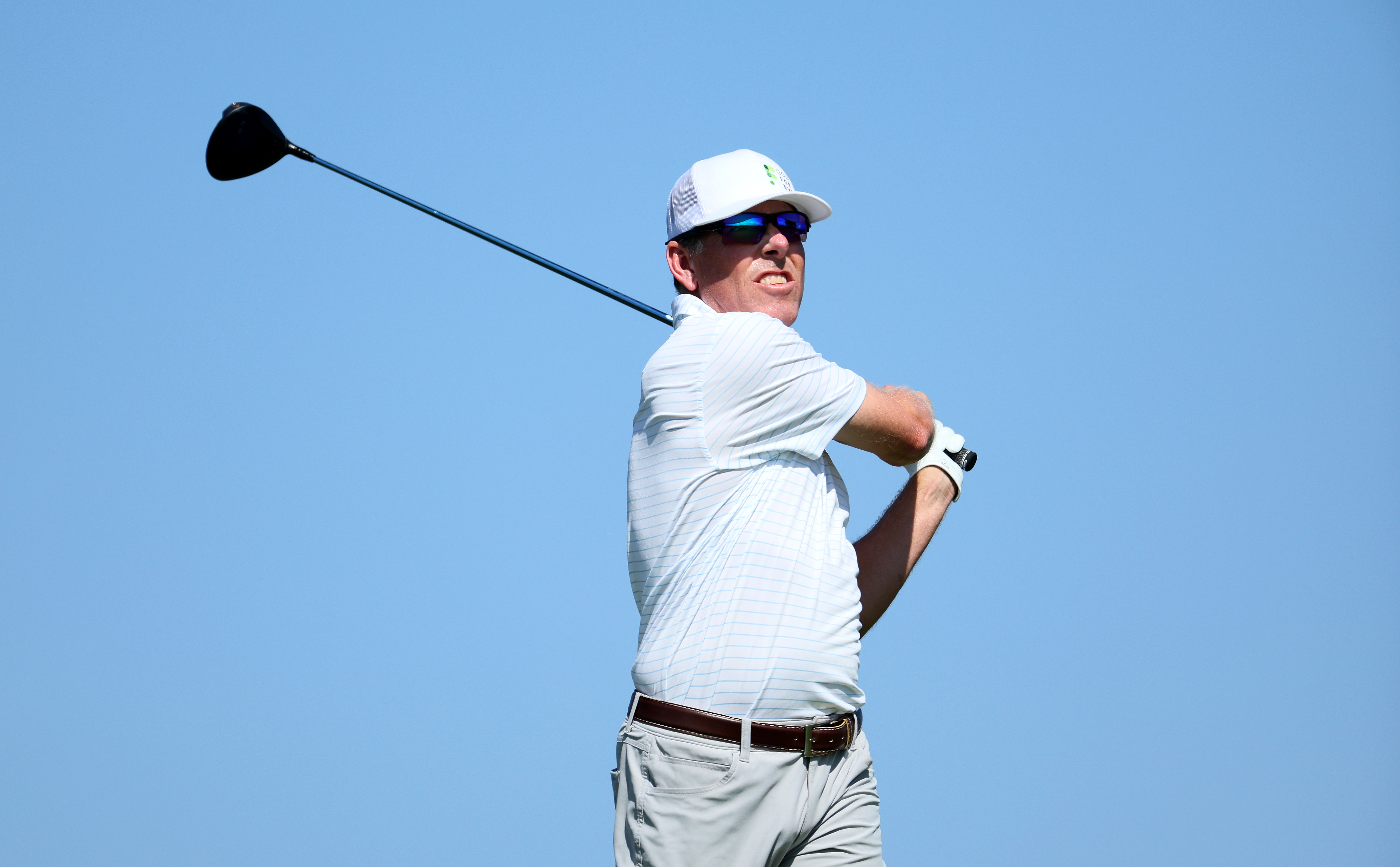 Leonard and Begay Shift From the TV Booth to the Fairway, and There is a lot of learning still to do
By Jeff Babineau
NAPLES, Fla. – Justin Leonard and Notah Begay spent most of their late 40s toting a microphone, and not golf clubs, around a golf course, each man deftly working broadcasts for NBC and Golf Channel. When either found himself in a spot of bother in a telecast, occasionally got a little tongue-tied, or perhaps needed the odd stat, there was always a teammate to whom they could toss the televised action.
Now these two are rookies once more, back to being on their own, competing for trophies on the PGA TOUR Champions. Leonard, a 12-time winner on the PGA TOUR (including the 1997 Open Championship at Troon) and Begay, a four-time winner on TOUR, will be making their first appearances, respectively, at the Chubb Classic presented by SERVPRO beginning Friday at Tiburon Golf Club's Black Course.
The two broadcast teammates were paired together in their debuts at the Constellation FURYK & FRIENDS event in Jacksonville in October, rookies once more. Begay said it has been challenging to try to learn new courses on his new tour. Thus far, Leonard has shown the better form of the two, picking up his first top 10 (T10) at the season-opening Mitsubishi Electric Classic in Hawaii, where he opened 66-67.
If there is an area of Leonard's game that has been pleasantly surprising, he says it would be his short game. Part of that traces to the fact that when bad weather would hit Colorado, where he formerly resided, he still could work on short game. And now that he is in Florida, Leonard said he makes the most of great practice facilities that can keep him sharp. He spent some of his offseason honing in on more specific tasks, such as the "little shots" where he might need to, say, take three or four yards off an 8-iron.
"I've always enjoyed the process, and I tell people as long as you're enjoying the process, the results will come," Leonard said.
Begay hasn't shown the same confidence and trust in his game to this point. This will be his first PGA TOUR Champions start of 2023.
"First event of the year, so don't have a whole lot of expectation, which means I'll probably play well," said Begay, smiling. His first two starts late in 2022 after he turned 50 resulted in finishes of T67 and T56. He warmed up for Chubb by making two starts on a pro circuit in Mexico, doing what he can to support golf in an important region.
His first goal of 2023 is to play well enough to maintain his playing opportunities, which sometimes can be fleeting on the over-50 circuit.
"I mean, this is a tough tour to keep your status," said Begay, who plans to still do some television work in 2023, beginning with next week's Honda Classic on the PGA TOUR. "Just solidify my place out here with enough quality golf to maintain my playing status, and of course, the overall objective is to win."
His good friend and former college teammate at Stanford, Tiger Woods, talks about winning all the time, and apparently that has rubbed off on Begay, who, in one nine-month stretch in 1999-2000, collected four PGA TOUR titles until back injuries would greatly slow down his ascent.
"I know that's something that, is as crazy as it might sound, that's Tiger's goal this year, this week, and we had a couple of chuckles about it," Begay said. "I said I wanted to come out here and focus on the ultimate prize, which is getting that trophy at the end of the week."
Leonard, who moved with his family to Tequesta, Fla., after spending about seven years living in the rugged outdoors of Colorado, always has been a fierce competitor as well. Jumping back into the arena doesn't mean he will do so without negotiating a learning curve along the way, despite his ample seasoning as a major winner and member of several U.S. cup teams. It was his long birdie putt at The Country Club in Brookline (Mass.) in 1999 that secured at least a half-point to assure the Ryder Cup would not leave U.S. soil that year.
He showed up to the Tour's season-opener in Hawaii having overworked himself in the offseason. To start the year, Leonard actually felt tired, not fresh. Yes, a bit of a rookie mistake. Leonard last played a full schedule on the PGA TOUR in 2014-15, and knows there is both a physical and mental element to finding one's path back to tournament golf.
The harder aspect for Leonard in the early going? The mental piece.
"That's probably the harder part," Leonard said, "because for six years I've kind of been analyzing what players do, and now I've got to kind of analyze myself and make those decisions in real time."
Leonard's 2023 plans lean heavily to the playing side of things, though he is in discussions with NBC to maybe work one broadcast this season. Begay said he will maintain the flexibility to step back and help out on the TV side when his schedule allows.
Said Leonard, "I'm enjoying being my own boss again, and deciding my schedule the way I want to divide my time. ... You know, obviously, playing and traveling, we're always going to miss things, whether it's lacrosse games or tennis matches or those things, but the big things I don't have to miss."
The modern television model stretches the hours a broadcaster needs to be at work on the golf course, but Begay and Leonard would sneak out from time to time in the mornings as they neared turning 50 to chase the little golf ball around. Now that the two are rookies again, the friends will take the time to compare notes on their discoveries.
"We support each other, and I want to see him do well," Begay said. "... The TV window is never ending, so it kind of cramped our golfing time. We did get out, and it was great. We were both not very good at the time, so we needed some work.
"Hopefully, we're a little sharper now."
Back to News