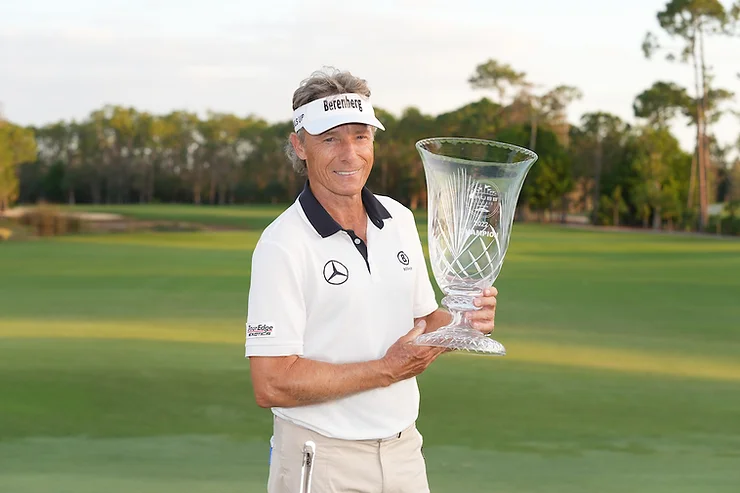 Langer Goes Wire-to-Wire to Win the 2022 Chubb Classic at 16-under, 43rd PGA TOUR Champions victory
By Jeff Babineau
NAPLES, Fla. – Tim Petrovic would like to see PGA TOUR Champions players wear heart monitors during tournaments, if nothing else, just to check in on Bernhard Langer.
"I want to know what his heartbeat is coming down the stretch," Petrovic said after the final round of the Chubb Classic presented by SERVPRO. "It's probably half of what we are."
Langer, 64, took one more step toward catching Hale Irwin's all-time mark for PGA TOUR Champions victories (45) on Sunday on the Black Course at Tiburon Golf Club, piecing together a brilliant ball-striking round to shoot 4-under 68 and capture his fourth Chubb Classic. Petrovic (69) did a good job chasing for a good portion of the day, but ran out of birdies midway through the back nine. For Langer, one last two-putt birdie at the par-5 18th gave him a comfortable three-shot victory.
Langer finished at 16-under 200, winning the Chubb wire-to-wire for the third time. It was his 43rd Champions triumph. He has won at least once every season since 2007, when he turned 50.
"It felt great," Langer said of his 21st and final birdie of the week. His round was about as stress-free as a tournament leader could experience. "I hit a super tee shot and hit as good a 2-hybrid as I can to the middle of the green ... took all the pressure off. I was able to celebrate all the way down here (to the 18th green), which doesn't happen very often."
Langer said a pivotal shot came at the par-5 ninth. Petrovic had made birdie up ahead of him, and Langer faced a 231-yard shot to the flag, over water. ("A little short, a little left or somewhere, I might make 6," he said). He 3-wood took off perfectly, leaving him 15 feet for eagle. Though he didn't convert the putt, he still walked off the green filled with confidence.
"At least I didn't lose ground," he said.
Langer turned professional as a teen back in Germany 50 years ago this year, in 1972, working as a teaching pro for his first three years. His head professional asked him one day, do you want to teach for a living or play? He hadn't thought that far ahead. When he won the German Closed Championship at the age of 17, he thought he would give playing a try. One World Golf Hall of Fame career later, everything has worked out nicely.
"I didn't have any money, and I didn't know if I was any good compared to players from overseas," Langer said, standing on the 18th green Sunday with another trophy next to him. "There were no Germans on the TOUR. I was the first full-time pro that played tournament golf, so I had no one to compare myself with.
"Anyway, we know the rest. It all turned out for the better. I didn't have to go back to teaching, and almost 50 years later, I'm still here."
Two-time U.S. Open champion Retief Goosen, who began Sunday two shots back and took himself out of the mix with three bogeys in his opening five holes, shot 70 to finish third, one shot better than Brian Gay (69), who was making his PGA TOUR Champions debut.
Langer displayed the precision of a German watch with his driver, hitting 39 of 42 fairways for the week on a fairly tight course where others strayed off the fairways often. Though hardly the longest player in the field, Langer took care of the par-5 holes on Sunday, making birdies at all four (Petrovic, meanwhile, a longer player, settled for pars on both back-nine par 5s).
Langer opened the Chubb by matching his age, shooting 64 (already he has shot his age or better on three occasions). He struggled some on Saturday, when he made three bogeys, but still fought his way to a score, shooting 68. On Sunday, he was razor-sharp from tee to green, and had only 28 putts.
"It's fantastic to see," said Sweden's Robert Karlsson, who said he first played with Langer sometime around 1990. "It's the same type of game (that he plays today). He doesn't give away anything, so few mistakes. That's why he wins."
Petrovic stuck around the longest, hitting two great iron shots to set up birdies on the 13th and 14th holes to cut Langer's lead to two. He hit a 5-iron to 2 feet at the 207-yard 13th and struck the flagstick with his approach at 14 (pitching wedge), his ball settling 3 feet away from the hole. He ripped a 2-iron into the par-5 15th seeking a third consecutive birdie, but his ball bounded to the back of the green and he three-putted for par. Regardless, Langer was making enough birdies to stay out in front.
"Obviously," Petrovic said, "he is comfortable winning."
Ernie Els admires the fact that, at age 64, Langer still relishes the day-to-day grind. The work. He said Langer will be on the practice tee on Tuesday in Tucson, this week's next stop, and count on it, he will be.
"I love playing with him, I love being around him," Els said. "Hopefully he can get to Hale Irwin's record, who knows? At 64. Amazing."
Langer stared into a camera on the 18th green, smiled, and had a message he wished to deliver: "I'm coming for you, Hale."
His peers on the PGA TOUR Champions expect nothing less.
Back to News