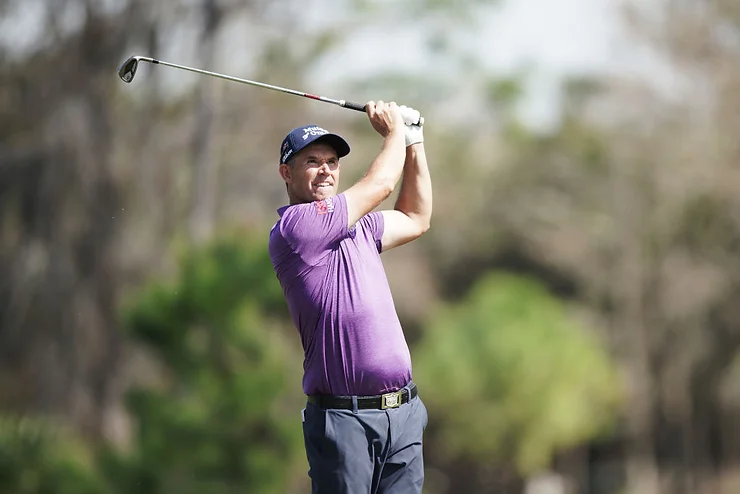 Harrington a late arriver at Chubb, but happy just to be playing
By Jeff Babineau
Three-time major champion Padraig Harrington turned 50 last fall and is expected to be a force on the PGA Tour Champions. This won't be the week he hoists his first trophy.
Harrington showed up to Friday's opening round having never laid eyes on the Black Course at Tiburon Golf Club, and his unfamiliarity cost him. He shot 77. On Saturday, he returned a 72, which was a little better. He will enter Sunday's final round some 17 shots behind leader Bernhard Langer.
Harrington initially thought he might have to withdraw from this week's Chubb Classic presented by SERVPRO. He was in Cork, Ireland, earlier this week to attend funeral services for his uncle, Jerome Harrington, who died at 91 on Feb. 11. Jerome was the older brother of Padraig's late father, Paddy, and the oldest boy among 13 children growing up in Ireland.
Harrington said PGA Tour Champions allowed him to miss playing in a pro-am, so he arrived to Florida late Thursday and was on the course competing on Friday.
"Strange. It's been a tough enough golf course not to know," he said. "Some of the green complexes, it would have been nice to see them. A few of the doglegs, like 18, not knowing them, it didn't help. But I'm still happy to be here. Some days, some things just don't work out perfect. That was the case this week."
This is Harrington's third start on the Champions Tour. His best finish has been a tie for 18th at the SAS Championship last fall. He endured a good deal of travel in his last week, but had no regrets about it.
"I'm delighted I could come and play," Harrington said. "I'm enjoying that element of it. But yeah, it's definitely a golf course that you need to know."
Back to News