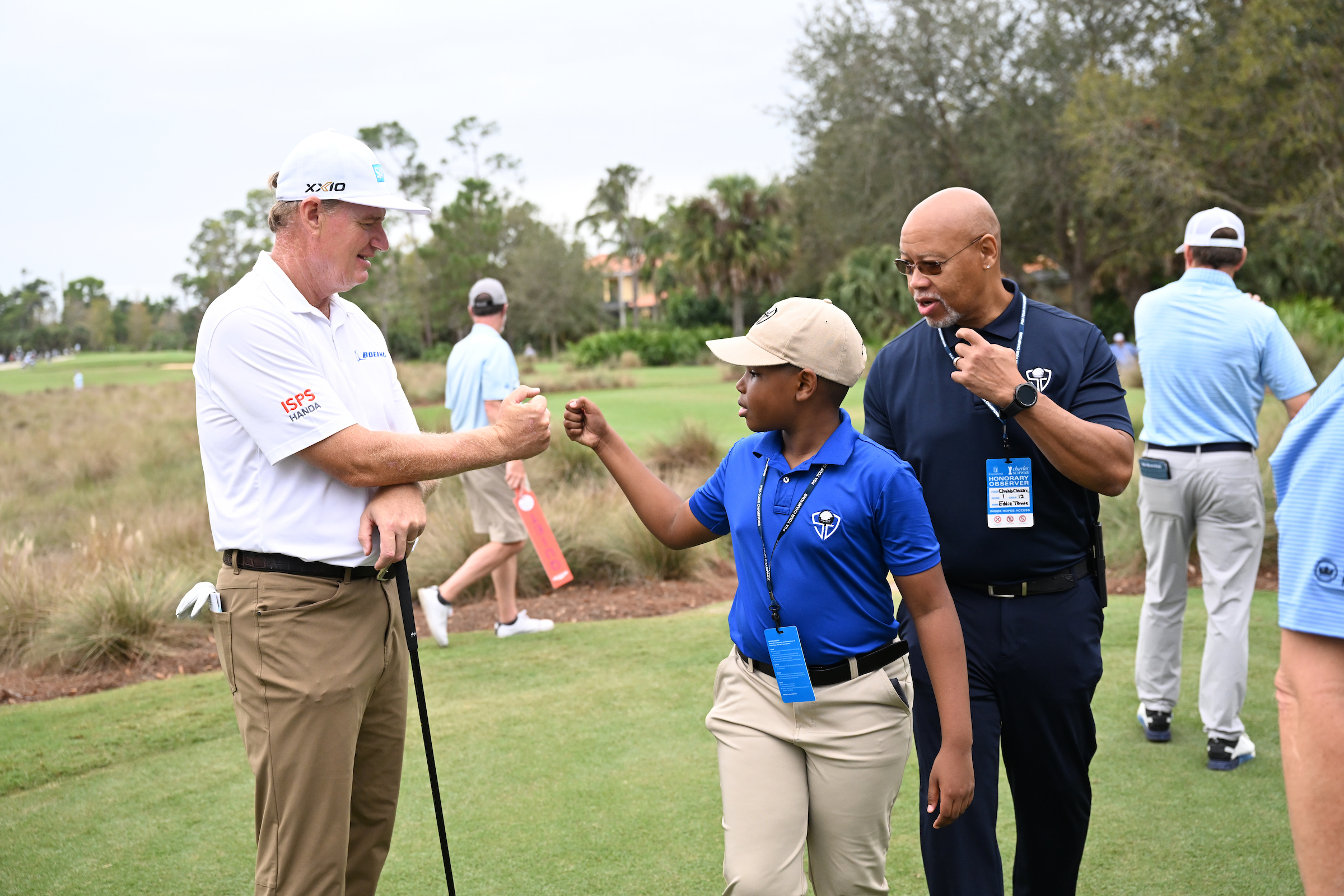 Friday Chubb Classic News and Notes: Els, Begay, Chubb 25th Anniversary
Ernie Els, a World Golf Hall of Fame member, won twice as a rookie two seasons ago on the PGA TOUR Champions, but was winless in 22 starts a year ago, his best showing being a tie for second at the Pure Insurance Championship late in the year.
Els, 52, won 19 times on the PGA TOUR and dozens more titles around the world, and is pretty programmed to win. He said Wednesday he would love to get on one of those hot rolls that he has seen other competitors – Steven Alker, Bernhard Langer and Steve Stricker, to name a few – get on.
"If you have like a three, four-, five-win season, that's a totally different confidence level," said Els, who was 10th at the Chubb Classic last February. "I just haven't been putting myself in that position. I missed a very short putt at Pebble that one year, and there's a couple of wins that were right there and I didn't quite take it, but I did have two wins, and then the COVID thing and all that.
"You've got to play good. I know from the past, if you can get that kind of confidence level, then you're going to a different place. I haven't really been there on this Tour yet."
More of a good thing: Chubb, SERVPRO extend PGA Tour Champions deal through 2025
This week's Chubb Classic presented by SERVPRO marks a milestone for the PGA TOUR Champions mainstay early-season event in South Florida – it marks the 25th year with Chubb as the title sponsor, making Chubb the longest running continuous title sponsor on the tour.
"For Chubb, it is also a unique opportunity for us to connect with clients and business colleagues to share ideas, enjoy the competition on the golf course, and to recognize and support non-profit partners such as The First Tee, a nationwide youth development organization that will receive a portion of this week's proceeds," said Evan G. Greenburg, Chairman and CEO of Chubb.
Through the years, the Chubb has been the site of a first PGA TOUR Champions victory for Allen Doyle and Lanny Wadkins, among others. (Wadkins is here at Tiburon Golf Club's Black Course this week as an analyst for Golf Channel.) Fred Couples, playing this week, won in his second PGA TOUR Champions start at Chubb in 2010; and in 2015, Lee Janzen won for the first time since winning the second of his two U.S. Opens in 1998.
To start the week, Chubb and SERVPRO announced they would be extending their sponsorship of the event through 2025.
Begay has seen this act before ...
In his first start of 2023 on Thursday, Tiger Woods finished birdie-birdie-birdie at the PGA TOUR's Genesis Invitational at Riviera, finishing one of his rounds with three birdies for only the third time in the ShotLink era. It may have surprised some, given Woods' lack of competitive rounds, but nothing Woods ever does ever will surprise his old Stanford teammate, Notah Begay III.
Begay said earlier this week that some of the best shots he ever has seen Woods hit have come in friendly rounds when the two were just playing for fun. An example:
"Yeah, we were playing at the Ritz-Carlton Grande Lakes (in Orlando, on the par-5 third hole) and he had a half-buried lie in a fairway bunker, that I thought he was only going to be able to advance about 200 yards," Begay said.
"He took a 2-iron out, and it was like the hand of God smacked the back of this ball, because he flew it on the front edge about 236 (yards). I went over and I looked at the divot, and I just was like, nobody else could have done that with the skill and the power and the accuracy. I think he went up and made the putt, too, which made me even more mad, because I lost the hole."
Back to News