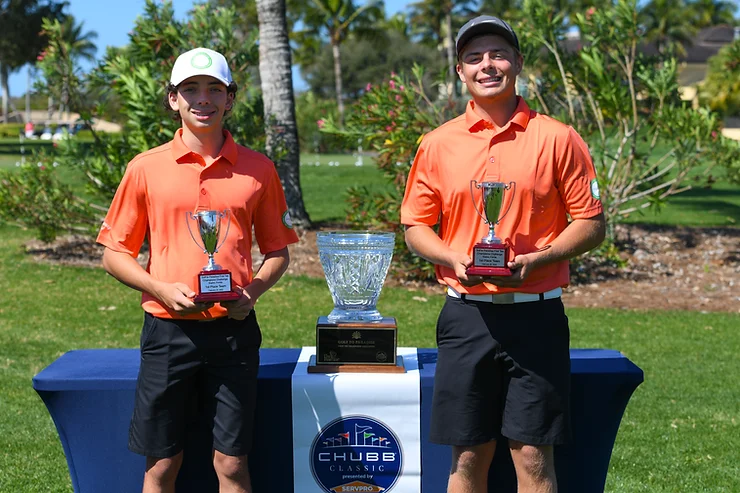 First Tee – Naples/Collier wins a home game in First Tee Champions Challenge
By Jeff Babineau
NAPLES, Fla. – Julian Alonso and Ty Kaufman led the Naples/Collier First Tee program to victory in the 15th annual Golf to Paradise – First Tee Champions Challenge, which was staged over three area courses in conjunction with the Chubb Classic presented by SERVPRO.
The competition featured 20 First Tee participants representing 10 Chapters from all across the country. On Friday, the teams played a scramble format at the Moorings Country Club; on Saturday, a better-ball was played at Royal Poinciana Golf Club (Pines Course); and Sunday participants played alternate-shot at Lely Golf and Country Club (Flamingo Course).
Alonso and Kaufman combined to shoot 28-31-37 for a winning total of 96 strokes. That total was two shots better than the Roanoke Valley Chapter (Caroline Gilreath-Slade Aliff), who had Sunday's top alternate-shot score (33) and five better than The Triangle Chapter (Ava Heaton-Brant Dattilo).
The First Tee students were able to participate in a First Tee Champions Challenge Clinic earlier in the week conducted by Joe Durant, Robert Allenby and former Champions TOUR player John Harris; performed beach cleanup service on Saturday prior to their rounds; and were able to get out to Tiburon to watch their favorite players at the Chubb Classic.
Other participating chapters in the Golf to Paradise – First Tee Champions Challenge: West Michigan; Pittsburgh; Minnesota; Roanoke Valley; Greater Philadelphia; Chicago; Greater Washington, D.C.; and Indiana.
Back to News