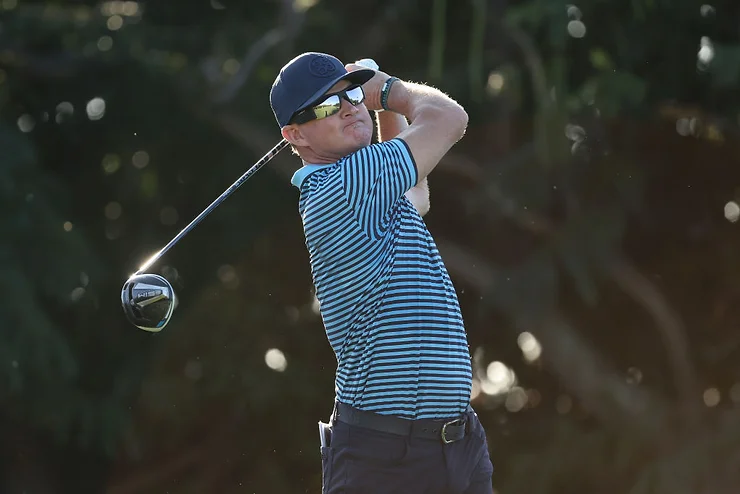 Brian Gay makes PGA TOUR Champions debut, unsure about his schedule
By Jeff Babineau
NAPLES, Fla. - Brian Gay shot 2-under 70 in his first PGA TOUR Champions start on Friday at Tiburón Golf Club. He started out on fire, making birdies at four of his first five holes, but soon cooled and slipped back into the pack.
Gay still has his card on the regular PGA TOUR, and said for now, that appears where he will be doing most of his playing. He wanted to play next week's PGA TOUR Champions event in Tucson – on a golf course he knows at Omni Tucson National Resort – but as of Friday said he would be traveling to the PGA Tour's Honda Classic in Palm Beach Gardens.
"Can you double commit?" Gay asked jokingly as the 5 p.m. deadline to commit to next week's tournaments neared.
This is Gay's first time at Tiburon, and somebody joked to him earlier in the week as he looked around in the parking lot that he resembled a young kid on his first day of school. Gay turned 50 in December, and has earned more than $24 million on the PGA TOUR. He owns five victories, including that 2020 Bermuda Championship that keeps him exempt to play the regular tour.
Gay said if he's able to contend for titles on PGA TOUR Champions, it certainly would make playing the over-50 tour "more exciting" to him, as opposed to having to battle the long-hitting younger guns week to week on the PGA Tour.
As of right now, Gay said he will play the Florida Swing, Valero Texas Open and Hilton Head (RBC, which he has won) and might return to the PGA TOUR Champions at the ClubCorp Classic, a new event that pairs Champions players with celebrities near Dallas, in late April. Maybe he will play the Champions majors?
"I got an invite to the Senior PGA last week, I think," he said. "Don't know much about that, Benton Harbor (Michigan). Maybe one in Birmingham (Regions Tradition, a major). I really hadn't got that far. Too many choices ... it's kind of hard to put the schedule together right now.
"It's great to see a lot of old, familiar faces (on the Champions Tour), which is neat. Same thing as anywhere, though – you've got to play good golf, period. Doesn't matter."
Back to News