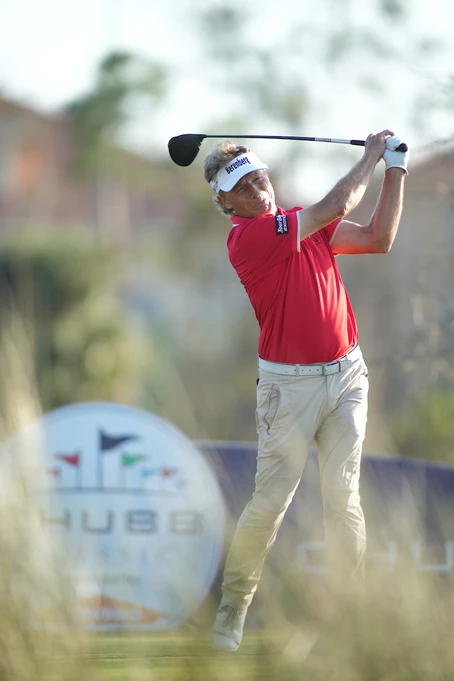 Bernhard Langer Takes Two-Shot Lead into Final Round at the Chubb Classic presented by SERVPRO
By Jeff Babineau
NAPLES, Fla. – Sunday at the Chubb Classic presented by SERVPRO will feature a familiar theme on the PGA TOUR Champions these days: Can anyone catch Bernhard?
That would be 64-year-old Bernhard Langer, who, one day after matching his age, battled and scraped his way to a round of 4-under 68 on Saturday at Tiburón Golf Club's Black Course. He is at 12-under 132 and will take a two-shot lead over a trio of chasers on Sunday, seeking his 43rd Champions victory.
Winning won't be easy. Right on Langer's heels will be a capable threesome, two of whom picked up ground on Langer on Saturday afternoon. Two-time U.S. Open champion Retief Goosen took advantage of a nice late break and rebounded from two sloppy bogeys with two late birdies to shoot 67; Scott Parel, whose last Champions victory was in Naples in 2020, fired the best round of the day, a 64; and Tim Petrovic played nicely in challenging conditions to shoot 68. Petrovic made par hitting a second shot from the water at the fifth and hit 2-iron to 15 feet to set up eagle at the par-5 sixth. All three are at 10-under 134, two shots back.
New Zealander Stephen Alker, who eagled the par-5 18th to shoot 65, and Jerry Kelly (68) will start Sunday four shots behind the ageless Langer.
"Anybody can shoot a low one tomorrow," said Goosen. "I think as long as we finish ahead of Bernhard, you got a good chance of winning."
Langer performed flawlessly in his opening round on Friday – it was the third time since August he equaled or bettered his age – but faced a little more adversity in his round on Saturday. When he missed a 12-footer for par at the 17th hole, he picked up his third bogey of the round. He then rebounded at the par-5 18th, hitting a full sand wedge to 8 feet and burying his seventh birdie of the day. Langer pumped the air with his right fist, pleased to end the day with one more birdie and a dose of putting confidence to take with him into Sunday.
"Absolutely," Langer said. "It's nice to have a two-shot lead, not a one-shot lead. It's nice to make a putt and finish the day well and give the people something to cheer about, too."
Saturday began with coastal fog that delayed play for 30 minutes, but by mid-morning the sun was out and an energetic crowd had filed in, ready to see some birdies. They got their fill. Langer, a six-time Charles Schwab Cup champion and three-time Chubb Classic champion was strengthened by a strong German presence in the gallery. He heard a good deal of German being spoken on the golf course, and felt right at home.
Goosen got off to a terrific start, shooting 33 on his opening nine before adding birdies at 10 and 11. He made two "stupid" bogeys on 12 and 14 and looked to be in danger of making at least another bogey (or worse) at the par-4 17th after hitting his drive into long grass well off the fairway. He thought he would have a chip back out to the fairway at best, but when he arrived to his ball, he saw it was sitting on a giant nest of fire ants. He received free relief, took a drop, ripped a 4-iron up near the green, and walked away with a par.
"That was the big turnaround for the round," said Goosen, who made seven birdies. "Rules of Golf went in my favor for a change, and I got away looking like making bogey or double bogey and got away with 4."
Parel did something rare for him after his opening 72. He headed to the practice tee, where he and his caddie, Keith Nolan, straightened out the iron play that had been holding him back. Parel seldom hits balls after a round, but this session paid off.
"My irons were awful," he said. "I drove the ball pretty well (Friday) but I just had no confidence in my irons. He (Nolan) knows my swing. I don't really have a swing coach, and when we got done, he kind of pointed out what he thought was going on. He was dead on."
Parel, 57, didn't come up playing the PGA TOUR the way so many of his peers did, and came to professional golf later in life, finally breaking through on what now is the Korn Ferry Tour. He has made up for lost time, though, and will not be intimidated trying to chase down Langer on Sunday. He, Langer and Goosen are in the final grouping at 12:41 p.m.
"I mean, I love it," Parel said. "He (Langer) is unbelievable. I saw him yesterday. I'm like, 'I'm glad you're shooting your age and not my age, because then we would have no chance.'
"So, yeah, I'm looking forward to having a chance."
Back to News