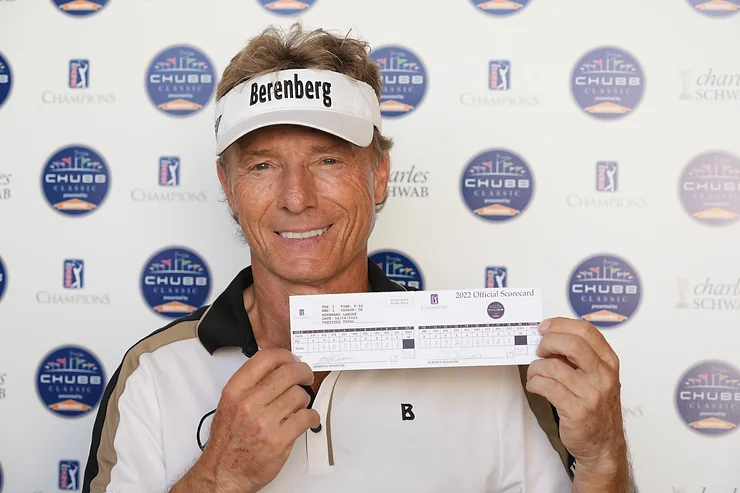 Bernhard Langer Shoots his Age (64); Leads by Two After Opening Round at the Chubb Classic
By Jeff Babineau
NAPLES, Fla. – Jim Furyk was headed down a long cement walkway toward the tournament scoring area after Friday's opening round of the Chubb Classic presented by SERVPRO. He glanced to his left, and in a small nook behind the two-story clubhouse at Tiburon Golf Club stood Bernhard Langer, posing for photos, grinning and holding up his scorecard. He had just shot his age. Again.
For those keeping score at home, that would be 64, as in 8 under par, marking another day of many he has spent on the top of the leaderboard. On Furyk's face – shoot, on everyone's face – there was a certain here-we-go-again attached to the scene. The entire PGA TOUR Champions membership continues to chase a man who is still going strong at an age when others are retiring and slowing down.
"Bernhard just needs to get older," joked fellow competitor Darren Clarke, offering the simplest solution.
Sweden's Robert Karlsson, a runner-up a year ago, and Tim Petrovic, who birdied two of his final three holes, sit two shots back after 6-under 66s. That was one better than Retief Goosen and Thongchai Jaidee, who shot 67s.
Langer is a true marvel, just months removed from capturing his record sixth Charles Schwab title. He was striking the ball beautifully on Friday at Tiburon's Black Course, but could not coax many birdie putts to fall. He stayed patient, and then the lid came off the hole. He birdied 11, hit a couple of nice 3-hybrids inside of 12 feet to set up birdies at 12 and 13, tacked on a birdie at the par-4 14th, and then set up birdies on Tiburon's two remaining par-5 holes (15 and 18) by hitting driver off the deck for his second shot.
On 15 he hit driver to 20 feet and narrowly missed eagle, settling for a fifth consecutive birdie. At the 533-yard dogleg 18th belting driver-driver left him just short of the green. The flight of his 9-degree driver off the turf stays low and runs a long, long way. Better yet, it almost never goes left, so in swinging it, he is filled with confidence. He pitched to 5 feet and rolled in his eighth birdie, his sixth of the back nine. Ho-hum. New season, same old guy leading the pack. Amazing, truthfully.
At the outset of yet another season, does Langer believe he still is as hungry as ever?
"I think so," he said. "I mean, we've had a long break, one tournament in three months, so I think everybody is eager to play. You've got a very strong field. I think this tournament and the next two or three, you're going to have very strong fields because everybody wants to get back in the action."
Since turning 64 in late August, Langer now has equaled or bettered his age on three occasions in competitive rounds (the first being his 64 on his 64th birthday at The Ally Challenge, topped by a 63 at the Schwab Cup Championship). On Friday, he didn't realize that he had done it again.
"Too caught up in the moment," Langer said, grinning. "Hopefully it will get easier as I get older. The future will show."
Langer already is a three-time champion of the Chubb, having last won the title in 2016. He owns 42 PGA TOUR Champions victories, and has a real shot at catching Hale Irwin's record of 45, a mark once thought untouchable.
"There's just nothing to slow him down. Obviously, age is not a barrier," said PGA TOUR Champions player Paul Goydos. "Bernhard doesn't seem to have barriers, and that's something that is not talked about enough in golf.
"I'm 57, and I'm in the older half of this tour. He's 64, and maybe he's the oldest. I don't know that there is anyone older. Anybody complaining about how old they are, well, wait a minute, the best player out here is the oldest. He was 58 years old when he played in the final group at Augusta on Sunday. Again, underestimating greatness is a bad idea, and he's obviously great. There is no other word for it."
Karlsson missed a few starts late in 2021 with was the equivalent of a stress fracture in his back, as he had fluid leaking from a disc and was in great pain. His goal on Friday was to get out and play 18 holes pain-free. Playing so nicely – eight birdies against a pair of bogeys – was something of a bonus. He didn't swing a club for six weeks, and only began hitting drivers again after Christmas.
"I'm looking at it that it's a long, long season," Karlsson said "Hopefully, I can get things going. Whatever comes early on is going to be a great bonus."
Furyk, No. 2 in the Schwab Cup a year ago, opened at 1-under 71, and Ernie Els, the four-time major champion who was third in the Schwab Cup, played alongside Langer and shot 69.
Back to News