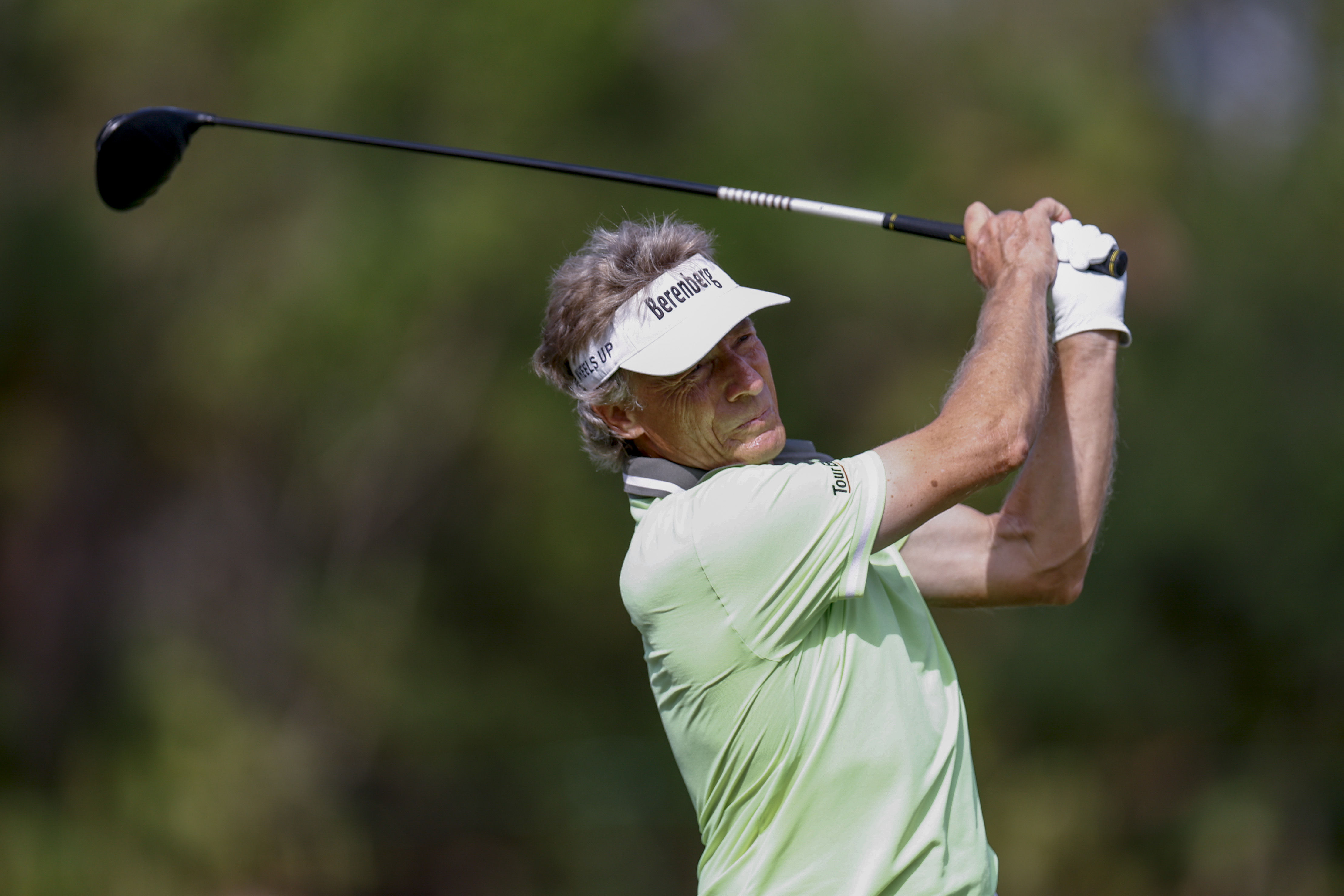 Bernhard Langer, 65, Breaks His Age Again; Leads After Round One at the Chubb Classic
By Jeff Babineau
NAPLES, Fla. – Some of the holes at Tiburón Golf Club's Black Course are being played in a different order than they have been played in the past at the Chubb Classic presented by SERVPRO, mostly to enhance the overall viewing experience for fans.
One thing that did not change in 2023? A certain name at the top of the leaderboard. Bernhard Langer, the ageless wonder who refuses to slow down at age 65, and one victory shy of the all-time PGA Tour Champions mark (45), shot 8-under 64 Friday to share the opening round lead with Paul Goydos.
Three players finished the day one shot outside the lead, including World Golf Hall of Fame member Ernie Els, who started fast (30 on his opening nine) and finished with a birdie at 18 to shoot 65. Also shooting first-round 65s were Dicky Pride, whose round included a bogey at the par-5 sixth hole, and Duffy Waldorf.
Waldorf, 60, is seeking his first victory since the 2016 Mitsubishi Electric Championship, a tournament that Pride won in 2020 for his lone victory on the Champions. Steve Stricker, who is seeking a record fourth consecutive victory on the PGA Tour Champions, opened with 67.
A year ago, Langer opened the Chubb with a round of 64, tacked on a pair of 68s, and went wire-to-wire for his fourth Chubb victory. It was career victory No. 43, and he added No. 44 late in the season at the TimberTech Championship closer to his home in Boca Raton. Langer, who made the two-hour drive to Naples to play this week, considers the Chubb to be a home game. You might as well hand him some slippers and ready a recliner. Langer appears quite comfortable at home.
A two-time major champion and member of the World Golf Hall of Fame, Langer has won in each of his 16 previous seasons on the PGA TOUR Champions, and might not wait long to add another. He is chasing Hale Irwin's mark for all-time wins on the over-50 circuit, a mark that seemed well out of reach when Langer joined the tour shortly after Irwin won for the final time in 2007.
Langer played poorly last week at the Champions stop in Morocco, tying for 39th, but give him this: He has a short memory, and he is nothing if not resilient. His round on Friday was 11 shots lower than his final round in Morocco. And though he had some difficulty remembering a few of his birdie holes because of some new hole numbers at Tiburón, he knew he played well enough to make a bushel of birdies, eight in all, against nary a bogey. His 64 marked the seventh time that Langer had equaled or bettered his age on tour.
"It's always a process," the tireless Langer said regarding the hours he puts into his game. "Today I didn't make those mistakes that I said I had made the last few weeks, where I would throw in two, three bogeys a day. I was pretty focused, and felt decent, and hit a lot of quality shots."
Really, the lone hiccup in his round came at the closing hole, the 533-yard, par-5 18th. Langer came up just short of the green in two, went with putter from off the green, and "chunked" his first putt. Two more putts and he had failed to capitalize for one final birdie. Faced with a similar situation on the previous hole, just off the putting surface, Langer chose putter and got down in two strokes for the par.
"I hit the ground first. That's why I came up short," he said. smiling.

"Otherwise, it would have been nice to go 9 under, but still happy with 8."
Goydos, 58, is a five-time winner on the Champions TOUR after winning twice on the PGA TOUR. He played steadily on Friday, but could have been headed for a big number on the 18thhole after a poor drive sent his ball toward the "garbage" down the right side of the hole. But he got his ball back in play, ripped a 5-wood into a greenside bunker, then holed the bunker shot for his ninth birdie of the day.
It was a terrific way to finish off a strong round.
Friday marked Goydos' 189th start on the PGA TOUR Champions. Combined with his 511 career starts on the PGA Tour, it marked the 700th career start for Goydos, who once was employed as a substitute schoolteacher. What does the milestone of 700 starts mean to him?
"Well, for me, it just means that I've been able to grind things out," said Goydos, who, on the regular tour, won Arnold Palmer's tournament at Bay Hill and the Sony Open in Hawaii. "No one has ever accused me of being a star or a great player, but I've been able to stay consistent and do my thing and keep doing my thing, enough to have a nice long career out of it.
"I mean, if you would have asked me when I was 20 years old if I'd have one start, I would have been surprised. So having 700 is great. It's a bonus."
Back to News