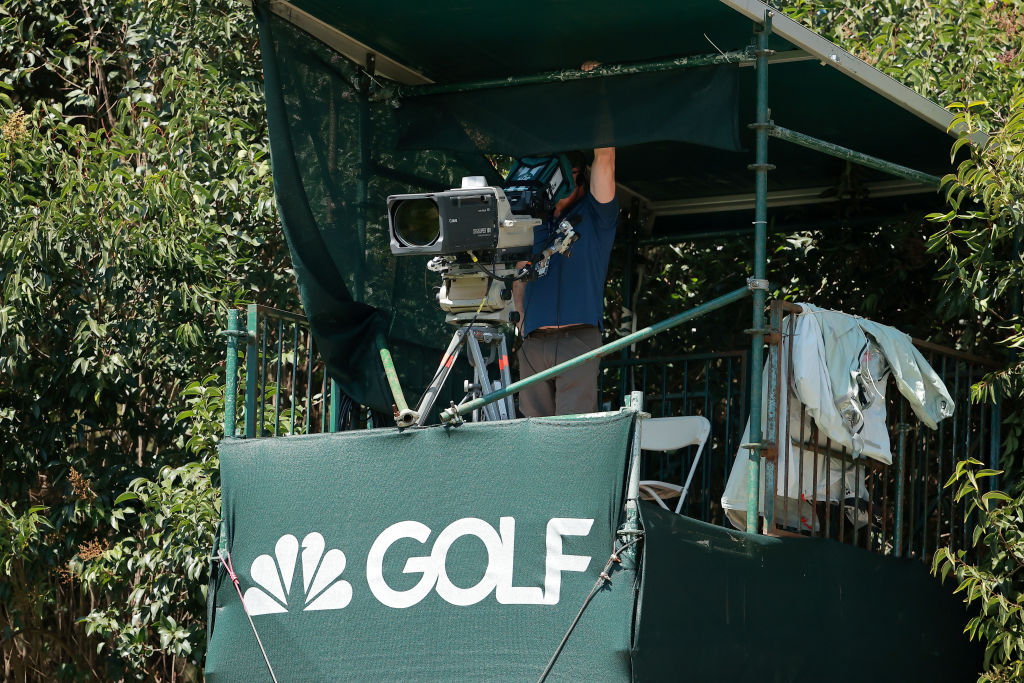 Behind the Scenes into the Television Production at the Chubb Classic
By Carson Racich
NAPLES, Fla. – "MASHED POTATOES" is a yelled phrase heard in the crowds at professional golf tournaments that began several years agoThat phrase started a trend that continues to this day. If it were not for television production, a lot of the phrases and highlights we know of today would not be in existence.
What many fans and viewers don't know is what goes on behind the scenes to make professional golf tournaments come to life on television.
I've heard that golf is one of the most difficult sports to produce, so I wanted to take a deeper dive and find out. Here at the Chubb Classic, the PGA TOUR and Golf Channel production team welcomed me into the television production truck, where I watched and listened in amazement on just how much goes into producing the Chubb Classic.
Other sports – football, basketball and hockey – have quarters, halftime and time outs where the ball stops moving. During those times the production staff has a free minute to catch their breath and get ready for the action to resume. Golf is very different.
"We have so many balls up in the air at one time, the action truly never stops," said Rob Sharpe, live tournaments producer for the PGA TOUR and Golf Channel.
To take a step back, planning and development is worked on months prior to the first tee shot. First, production staff starts to coordinate all their logistics from truck placements to the fiber layouts across the property. This is done three to four months ahead of time from the actual tournament, with multiple reviews and critiques. Some sites are easier to set up than others due to the property size.
"At one of our sites in Georgia, we laid out roughly 12 miles of fiber on the property. This is so we can broadcast and reach every inch of the course," explained Mel Hundley, Golf Channel's Director. "Here at Tiburon Golf Club, we have laid close to 48,000 feet in total."
While spectators are out enjoying the sunshine and tournament, the chords strung along may look effortlessly placed. Truth be told, the production team works tirelessly to strategically place them throughout the course so to not interrupt play on the spectators' experience.
"We use a chart called a Fiber Plan. This shows us a color-coded layout of where each chord goes along the course," said Hundley. "It takes us three days to lay it all down and roughly two to four hours to pick it all up."
After the initial set up of compound placements and fiber plans, the staff familiarizes themselves with the property.
"The more you know about the site and where things are, the easier it is to maneuver," said Sharpe." The first thing that I do when I get here is walk the property like I'm a caddy. I log how long the walks are from tee to green and from placing the flag in the hole to the next tee."
When the producer is walking the course, he is taking notes for production purposes. For example, depending on how long the walk is, he knows where a commercial is going to go.
Others on the production team are prepping the remaining equipment. The "Spiders" are pieces of equipment that are detrimental to have stationed properly on the course. The spiders are not insects, but rather mobile cameras with a standing platform. A tractor is stationed between greens with an adjustable arm ready to follow players. A camera man is clipped in while it spins and rolls around the course.
The spider is one camera in the line-up of equipment of many. There are cameras of all functions also being prepped while flow sheets are being finalized and handed out. A camera flow sheet is an assignment layout for each cameraman on staff daily. This will dictate who will be following who and where they will be staged throughout the course. This will also show when and where coverage will be picked up through the course on specific holes.
Some of the more elaborate cameras placed on the course are those with a newer feature enhancing viewers' experience. Golf Channel adopted 'tracer technology' to be able to give viewers tuning in a better opportunity to see the path of the ball as well as more detailed stats.
This tracer technology is sponsored byTrackman, a radar that uses doppler technology to track and record 3D characteristics of a ball in motion.
Trackman is set up throughout the course on several of the cameras. This is an adaptation that will only continue to elevate viewership.
When it comes to the actual production, there is a lot more to monitor. No pun intended.
"There's so much action at once so what we do is record everything. We could be showing a player's tee shot and then look to our left to see Couples putting for birdie which could result in a leaderboard change," explained Sharpe. "What we do is record, and record everything. This allows us to stay in the present while showing as much player action as possible".
Choosing who to show and what is important is what the director, technical director and producer have to keep in mind.
"With so many screens showing such different action, we have to look at this like a big puzzle piece," said Sharpe. "We are out here steering one enormous bus while feeding story lines to the announcers."
Once a particular shot has been decided, the technical director has to decide how he wants the viewers to see the shot, whether it being a high, low, mid, zoomed or wide camera angle.
Communication is key because the television production team and the on-air broadcast team is spread throughout the course. The staff has to make sure everyone is familiar with pairings and stats so they can be quick with graphic creations as well as be able to adlib.
"We may think Steve Stricker is running away with the championship, but then all of a sudden he could make a big number putting someone else in contention. With golf you have to be ready for anything… including the impossible," said Sharpe.
There is so much that goes into not just the event but also the production. Volunteers are just as important in collecting stats and relaying information to the crew as they would be handing range balls out to the players.
"It's hard work, but it's fun work" emphasized Sharpe." We have a big staff and numerous volunteers to thank for making these events possible.
"At the end of the day, this is all a bunch of chaos…controlled chaos," laughed Sharpe.
Back to News