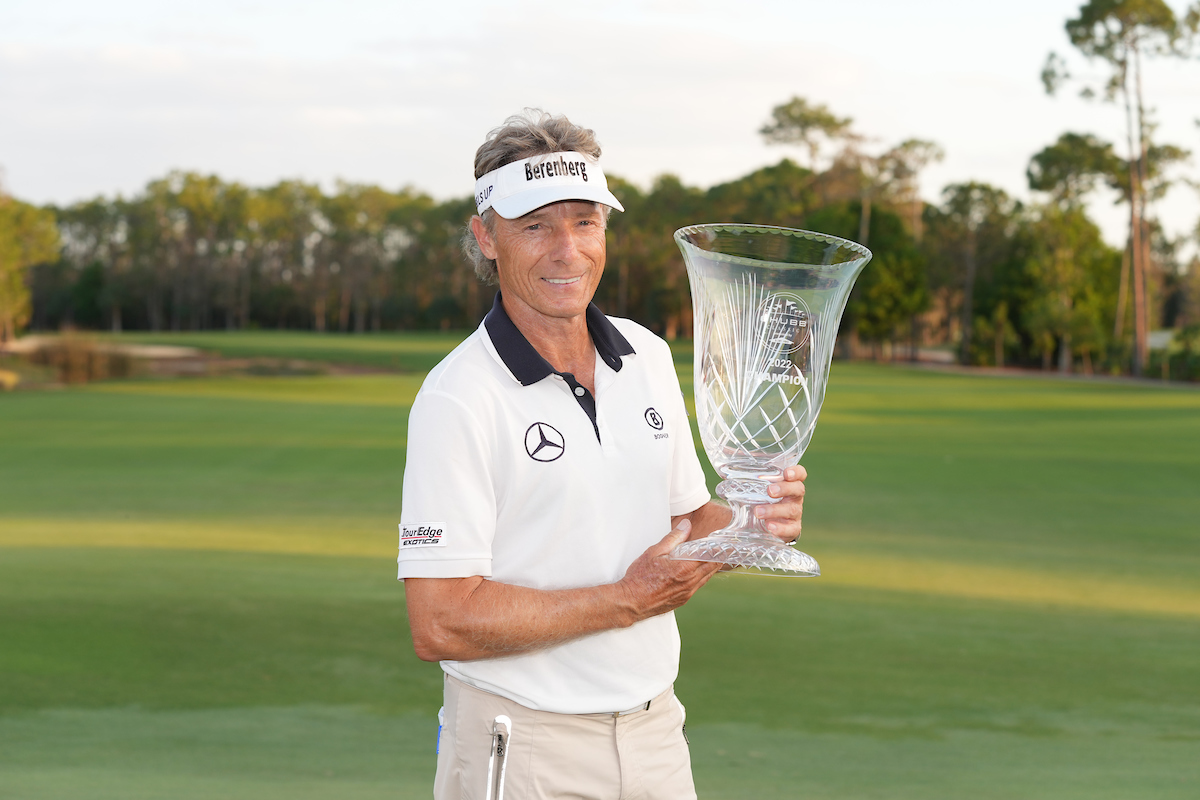 AT CHUBB, LANGER SETS SIGHTS ON IRWIN'S VICTORY RECORD
By Jeff Babineau
NAPLES, Fla. – Bernhard Langer learned the value of hard work very early in his life. As a youth growing up in post-World War II Germany, Langer would watch his father, Erwin, rise at 6 a.m. to work around the house, see him head off to his demanding job as a bricklayer by 8, and perform work again at home when he returned at dinner time. Likewise, Langer's mother was on the go constantly, juggling multiple tasks, odd jobs, always getting things done.
That tireless work ethic became ingrained in the Langers' youngest son, Bernhard, and it never has left him. Now 65, and well past an age where golfers are expected to continue to even contend for titles on the PGA Tour Champions, Langer remains a significant factor when it comes to battling for trophies among the over-50 set. This week at the Chubb Classic presented by SERVPRO, Langer has his sights set on history.
Hale Irwin's longtime PGA Tour Champions record for victories – 45 – once seemed a bar far too high for anyone else to clear. But here is Langer, 44 Champions victories in the bank, about to tee it up at one of his favorite tournaments, needing one victory to tie the mark, and two to establish a new one.
"Yeah, well, years ago it was a faraway sort of thing," Langer said. "At the beginning I thought, well, I don't think anybody is ever going to achieve 45 victories again out here, but as I get closer and closer, it becomes more and more realistic.
"I'm one away. I believe I have a few more wins in me. ... It's very much on the radar screen now."
Langer captured last year's Chubb title at Tiburon Golf Club's Black Course, going wire-to-wire for the victory, his fourth triumph at the Chubb, a tournament he also captured in 2011, 2013 and 2016. His 16-under total of 200 last year was three shots clear of Tim Petrovic, and gave Langer victories in each of his 16 PGA Tour Champions seasons.
He also won later in the season, at the TimberTech Championship near home in Boca Raton, en route to finishing sixth in the Charles Schwab Cup. He has won the season-long Schwab series a record six times.
How does he keep the energy, and the desire, to compete at such a high level? Langer said there are three significant keys for him: Is he healthy? Does he still enjoy competing? And is he still somewhat successful?
"If those three things are present, I'm probably going to continue," said Langer, who has played twice in 2023, his best finish being a T-10 at the Mitsubishi Electric Championship in Hualalai.
Langer said there are courses on the PGA Tour Champions that favor the younger, longer hitters, and there are those that still reward driving the ball straight, and keeping it in play. A year ago at Chubb, Langer's top strength was his driving. He was a machine hitting fairways.
"To me, it feels like a home game," Langer said. "I've lived in Boca Raton, which is two hours straight across from Naples, and I've been here for 30 years, so this is pretty much home for me, South Florida. It's nice to drive for two hours and not get on an airplane and all that, and have some of my family and friends around."
This week marks a milestone for Chubb. It is the 25th playing of the tournament under Chubb's sponsorship, making it the longest running continuous title sponsor on the PGA Tour Champions schedule. The 54-hole event begins on Friday, with 78 players vying for a purse of $1.8 million – a boost of $200,000 over 2022.
Langer returns as the defending champion, but also in the field is Steve Stricker, the 2021 champion who was unable to defend his title a year ago because of health issues. Stricker bounced back to win four times in 2022 and has been a huge force on the Champions. Steven Alker, last season's Charles Schwab Cup champion, is playing, as are Ernie Els, Retief Goosen, Jim Furyk and tournament rookie and past major winner Justin Leonard.
For tournament information, or to purchase tickets, visit www.ChubbClassic.com.
Back to News