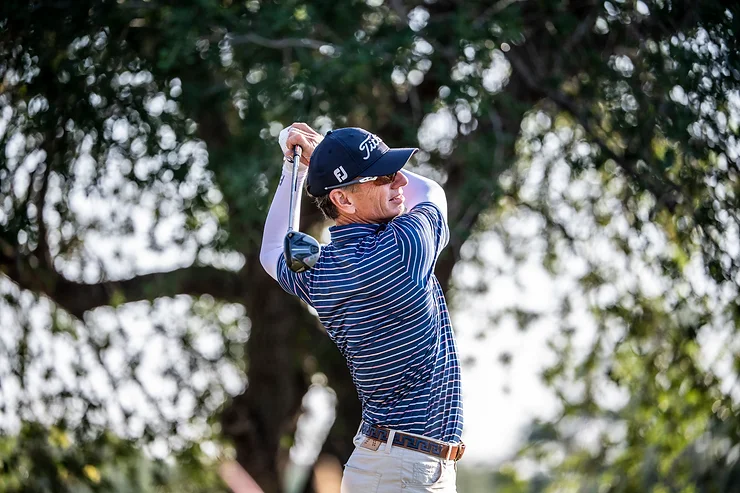 Andrade, Balliet, Faxon, Hart and Muehr Announced as Sponsor Exemptions to the 2022 Chubb Classic
Sponsor Exemptions Joining Elite Field Featuring Nine Hall-of-Famers, Major Champions and Legends of the Game at Tiburon Golf Club
Tickets On-Sale Now at www.ChubbClassic.com
NAPLES, Fla., Feb. 9, 2022 – PGA TOUR winners Billy Andrade, Brad Faxon and Dudley Hart, PGA of America professional and Calusa Pines Director of Golf Michael Balliet and Michael Muehr were announced today as sponsor exemptions for the 2022 Chubb Classic presented by SERVPRO, taking place Feb. 14-20 at Tiburón Golf Club's Black Course in Naples, Fla.
They will join a stacked field of 78 players that features nine Hall-of-Famers, major champions and legends of the game in the PGA TOUR Champions' first full-field event for the 2022 season. They will be competing in the 54-hole event (Feb. 18-20) for a share of an overall $1.6 million purse. The Chubb Classic will be celebrating its 35th anniversary in Naples in 2022 and is the longest-running PGA TOUR Champions event to be contested in the same market.
Players have until 5 p.m. ET on February 11 to commit to the Chubb Classic. GOLF Channel will televise all three rounds of coverage Friday-Sunday, Feb. 18-20.
"Our five sponsor exemptions are joining an already elite field that is shaping up to be one of the strongest fields in the history of the Chubb Classic," said Sandy Diamond, Chubb Classic executive director. "They have resumes on and off the course that speak for themselves. We look forward to welcoming them into the field next week."
Andrade, a four-time winner on the PGA TOUR and three-time winner on PGA TOUR Champions, recorded three top-10 finishes on PGA TOUR Champions in 2021, highlighted by a T3 finish at the Shaw Charity Classic. He finished T44 at the 2021 Chubb Classic. Faxon, an eight-time PGA TOUR winner and two-time PGA TOUR Champions winner, is returning to PGA TOUR Champions competition for the first time since the 2021 Chubb Classic, where he finished T64. Andrade and Faxon are active contributors to charity, jointly founding the Billy Andrade/Brad Faxon Charities for Children, Inc. Together they also co-host the annual CVS Charity Classic in Rhode Island.
Hart, a two-time PGA TOUR winner and a Naples resident, recorded two top-20 finishes in the 2020-21 season and is currently serving as assistant men's golf coach of the Florida Gators at his alma mater, the University of Florida.
Balliet, a PGA of America professional and director of golf at Calusa Pines Golf Club in Naples; and Muehr (McLean, Va.), a four-time winner of the George A. Crump Memorial Tournament at Pine Valley Golf Club who finished just shy of earning a spot in the 2021 PGA TOUR Champions Final Qualifying, will both make their PGA TOUR Champions tournament debuts.
To celebrate the tournament's 35th anniversary as the longest-standing PGA TOUR Champions event to be contested in the same metropolitan area, tournament organizers will welcome back fans to the 2022 Chubb Classic with a variety of ticket options that are now available and can be purchased exclusively at www.ChubbClassic.com.
There are four ticket options for fans interested in attending the 2022 Chubb Classic:
Good-Any-One Day Grounds

$25. General admission daily grounds, valid Thursday, Feb. 17 (Pro-Am), and Friday-Sunday, Feb. 18-20 (tournament rounds).

Weekly Grounds

$40. General admission daily grounds, valid Thursday-Sunday, Feb. 17-20.

Legends Lounge 17th Green Suite

$125 per day. Private luxury suite offering exclusive views of the 17th green. Includes hot appetizers, afternoon snacks, soft drinks and cash bar.

ULTRA Club 18th Green Suite

$400 per day. Private luxury suite overlooking the 18th green. Includes premium full lunch buffet, open bar and valet parking.
Tiburón Golf Club, the only facility to host a PGA TOUR, PGA TOUR Champions and LPGA Tour event in the same calendar year, features two 18-hole Greg Norman-designed golf courses, The Gold and The Black. The Black Course, which opened in 2001, has a very distinctive look with its pine straw-lined fairways, crushed coquina waste areas and undulating greens nestled amidst acres of pine trees and native Florida foliage. The Black Course is designated as a Certified Audubon Cooperative Sanctuary by Audubon International to protect and enhance its natural surroundings.
The 2021 Chubb Classic was contested in April at The Black Course at Tiburón Golf Club, where Steve Stricker captured his sixth PGA TOUR Champions victory by one stroke over Robert Karlsson and Alex Cejka.
For more information on the Chubb Classic, visit www.ChubbClassic.com, as well as on social media: @ChubbClassic on Twitter, @ChubbClassic on Instagram and Chubb Classic on Facebook.
Back to News