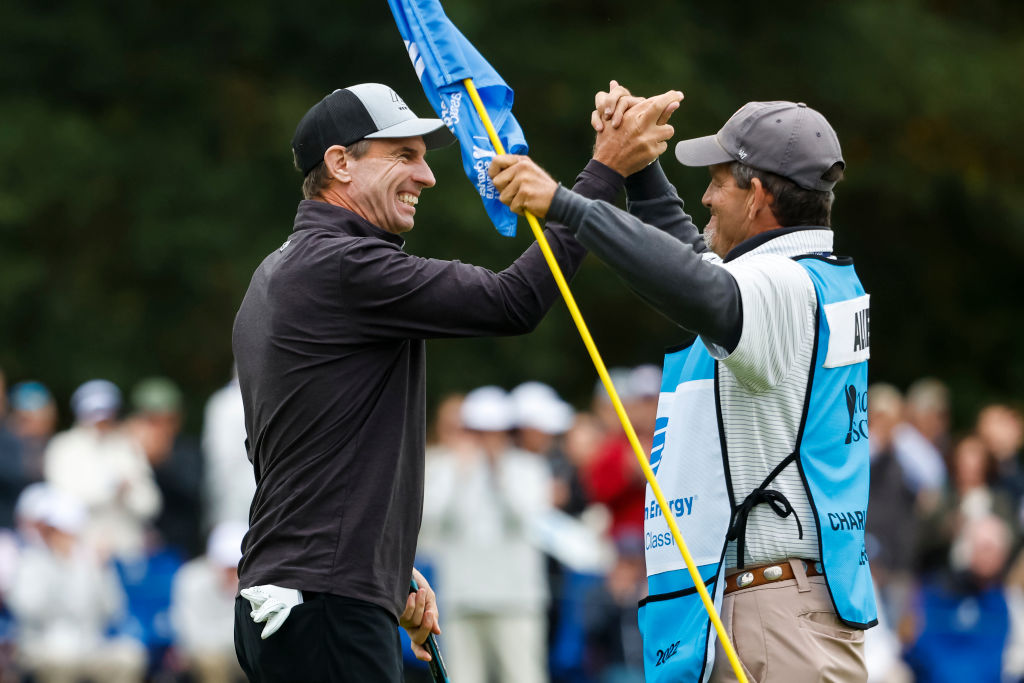 A Somber Steve Alker Returns to Work
By Jeff Babineau
NAPLES, Fla. - New Zealand's Steven Alker, last season's Charles Schwab Cup champion, already has had a long, difficult week. And he will not strike an official shot at the Chubb Classic until Friday morning.
Alker, a four-time winner a year ago and the surprise sensation of the 2022 PGA TOUR Champions season, started this week in Beeville, Texas, 90 minutes outside of San Antonio, where he, his wife and children attended funeral services for Sam Workman, Alker's caddie of four years.
Thursday at Tiburon Golf Club's Black Course, Alker was back trying to play golf, making last minute adjustments for the Chubb Classic that begins today.
"It was good to get out on the course today, do my thing, and sort of get away from it all," said the soft-spoken Alker.
Workman's passing at age 55 of liver cancer was a huge shock across the tight-knit tour. Workman caddied for Alker in the season-opening Mitsubishi Electric Classic in Hawaii just last month, returned home, was diagnosed with cancer, and was gone in a matter of weeks. Alker spent time with him at Workman's home in Texas, and then returned for his services on Monday at St. Joseph Catholic Church.
"To have him diagnosed and to go so quickly, it's just sad news," Alker said. "I guess the only positive spin on it is that he passed quickly, and didn't suffer too long.
"It was a fantastic service, we went down there, my wife and I, our children. There was an amazing turnout. We made it to the golf course, Beeville Country Club, and had something to eat and a few drinks. It was quite fitting for Sam.... He was just a very down-to-earth guy. Everybody loved him. He made a lot of friends out here on the Champions Tour very quickly. I just got to know Sam better than I did being around his friends and family. That was pretty special. I'm still kind of in shock really, that he's gone so quickly."
Troy Martin, who was the winning caddie on Stephen Ames' bag last week in Morocco, will be on Alker's bag this week. Alker said he has caddies lined up into late April (his wife, Tonya, will caddie one week) and expects to find a full-time caddie later in spring.
"This week I'm playing for him (Workman) and his family," Alker said. "We're still praying for them all."
Workman was a huge fan of the Houston Astros, and to honor him Friday at the Chubb Classic, many of his fellow caddies will be wearing Astros hats.
Back to News